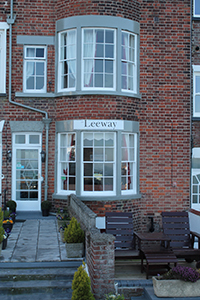 Built in 1822 this listed building is full of character offering spectacular views across the North Bay that capture Scarborough castle and the fantastic Yorkshire coast line. All you need to do is sit back and simply enjoy the fantastic view and the friendly atmosphere that the owners Kevin and Zsuzsanna provide.
All of our rooms are en suite, offering Freeview TV and free Wi-Fi connection. Each room is generously supplied with tea and coffee making facilities.
It is one of the few hotels in the area to offer guests free parking.
The Leeway is situated above the North Bay overlooking the spectacular castle, cliffs and beach that extend for well over a mile long the rugged coastline. This part of Scarborough attracts families to the safe and accessible beaches as well the more adventurous surfers who can be seen on most days riding the waves.
The busier South Bay, with its harbour, fun fair and arcades is just a 10 minute walk away.
The town centre is home to a variety of restaurants that include award winning Sea food, Italian, Indian, Chinese and English cuisine, which are all just minutes away.
Slightly further afield is the historic town of Whitby, Filey, Bridlington the spectacular Yorkshire Moors and historic York.
Travel information;
Once in Scarborough, follow the signs for the Cricket ground- you find yourself on North Marine Road. After the roundabout, take the 2nd right, turn left into Queens Parade; The Leeway is the first hotel on the left.
Some off street parking is available to our guests.
On-Street parking is also available with 2 and 4 night permits issued free of charge, allowing you to park directly to the front of the Hotel in the G2 Zone.