Scarborough is blessed with some of the UK's finest coast lines and beaches and you can take it all in by going on any of a number of different costal or inland walks. There are walks and routes suitable for all ages and abilities.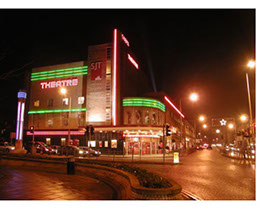 The busy South Bay has fun fairs as well as amusement arcades to enjoy that include everything from one arm bandits/slot machines through to the latest video games that have just been released. If you want to watch the latest blockbuster in a quality cinema in luxurious comfort then Scarborough is as good a place as any! With 3 Cinemas there are plenty to choose from.
TheatreThe North Bay is quieter commercially but enjoys a superb beach, the Sea Life Centre and the attraction of either watching or trying the surfing that takes place in the area.
Scarborough has a long and rich musical history and it is difficult to go far in Scarborough without seeing or hearing a reminder of its musical heritage. There are lots of great live music venues here, it is a fun place and there are masses of great pubs to go for a drink whether you want a pub that's thumping out the latest tunes or local and international musicians, or somewhere quieter where you can enjoy a quiet drink and a chat, its all here. There are lots of excellent restaurants, also some beautiful theatres for your enjoyment.
Scarborough, being a seaside town, has strong ties with sports of all types, not just the ones you might expect like wind-surfing, water-skiing, sea fishing and swimming. There are lots of sporting activities for you to choose from.
Historic Whitby and the magnificent moors are close by, Robin Hoods Bay, Filey and Bridlington are just down the road. You can catch a ride on the beautiful North York Moors Railway or the Scarborough miniature railway.
Here are a few links to get you started on your plans for an amazing holiday in Scarborough:
STEPHEN JOSEPH THEATRE, SEA LIFE CENTER, FLAMINGO LAND, EDEN CAMP, NORTH YORK'S MOORS RAILWAY, OLYMPIA LEISURE, CASTLE HOWARD, CAPTAIN COOK COUNTRY, SCARBOROUGH LINKS, PEASHOLM PARK